The gang of StarkMotors, and specifically Olga, the owner of this motorcycle, started this escapade . Messing around with mockups for probably a month. The film for this business went quality. Despite the fact that the stickers went under the lacquer and it was possible to save money, the budget matte film is not deep enough black.

Polynesian ornament theme fashionable. The notorious Dwayne Rock Johnson has long been a fan of such "rock art". By the way, Alexander's husband, Olga's husband, has tattooed himself like graphics on a moto. Jealous wife to motorcycle;)
On painting a motorcycle, this handsome (or beautiful from the point of view of the hostess 🙂, you can read on the website StarkMotors (opens in a new window).
Buy a similar set of stickers on your motorcycle here. …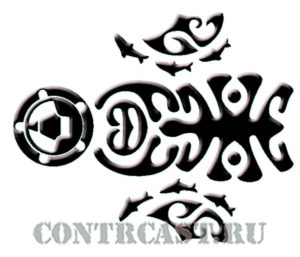 In the photos we have, unfortunately, the lining on the tank under the belly and on the neck is not visible. And these things were also present. They were a continuation of the ornament, filled with silicone, everything as it should be according to Feng Shui.
On the helmet AGV did not stickers, and stencils. Oh, and painter StarkMotors had the trouble with this case, but he did it perfectly well. Well done! The hat turned out stylish.
…
Olga ordered another such set of budget film on sports plastic. Now adorns the Polynesian ornament on the tracks of the country. We wish her good luck)